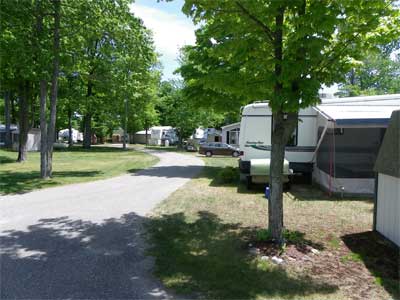 In this part of northern Michigan you can relax and enjoy fishing and boating like nowhere else. Mullett Lake, one of the jewels of big water inland lakes in Michigan, is right at your doorstep from Pigeon Bay Campground. Pigeon Bay Campground on Mullett Lake is one sweet place to call home in northern Michigan for RV camping.
The waters here are legendary around Michigan. Bass fishermen say the rivers, stream and lakes in Cheboygan County, most accessible by boat along the famous Inland Waterway from the south end of Mullett Lake, hold some of the best bass fishing in all of America.
Is walleye or northern pike your thing? There's a lot to explore up here that will interest you.
Fly fishing? No problem. The Maple River, the Sturgeon River, and many more flow nearby. RV camping on Mullett Lake brings you close to some of the best fly fishing in the upper Great Lakes.
There's the Indian River south to the village of Indian River. There's the Cheboygan River north out of Mullett Lake leading to some of the very best salmon and steelhead fishing anywhere.
If you like to relax and put your feet up, this is also the perfect place to call home in northern Michigan in the summer. We have great boat ramps and boat slips with river access (just around the bend is Mullett Lake). You'll love our style of hospitality and our incredible summer days. All at Pigeon Bay Campground on the Inland Waterway.




1337 E. Mullet Lake Rd
Indian River, MI 49749
GPS: 45° 26.53860, -84° 33.32880