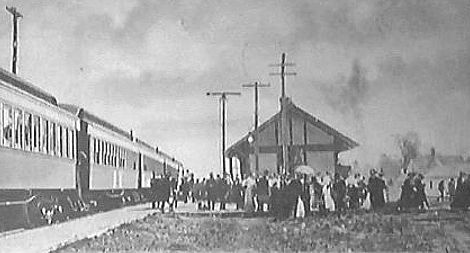 Oden was considered a resort center. Year round residents were clustered along main street. In 1882 Oden became a station on the G.R.&I. Railroad, the depot was located on the north side of Main St. There were also flag stops to the north and south of town. The flag stop on the south side was known as Oden Oden, here tourists would leave the morning train and embark on steamer excursions to begin their tour of the Inland Water Route.
One of the early attractions in Oden, was its 200 foot deep, 6″ flowing artesian well. The well was located across the street from the depot. Here the trains filled up with water. Over the years the pond filled with rubble and the well removed.
There were three grocery stores located on Main Street. The A&P operated a summer store. Adjacent to the A&P was a automobile service garage, and gas station selling Red Crown gasoline. There were two bowling alleys on Main Street one across from the Post Office known as the Oden Casino, It had slot machines, an ice cream parlor and a dance hall upstairs which was also used as a roller skating rink. The population of Oden in 1895 was 20.
By the early 1900′s, many cottages had been built along the waterfront.
Oden has had many thriving businesses. In 1910 Joseph Magnus built the Oden Boat House and created a golf course.. He promoted them as The Oden Boat and Golf Club. The golf course was laid out along the lake in front of the present day fish hatchery which is located to the south of Oden. The original boathouse was very attractive with a rustic arched bridge for pedestrians to use to access several docks located lakeside.
Another historically significant business was the Oden Hotel had a hotel which was later named the Rawdon Hotel and the Inn was named the Atherton Inn.
The Oden Hotel was built in 1895 to resemble the shape of a steamer, and was located on the lakefront south of Main Street, it was sold shortly afterwards to J. D. Rawdon, and was renamed the Rawdon Hotel . Source IWRHS