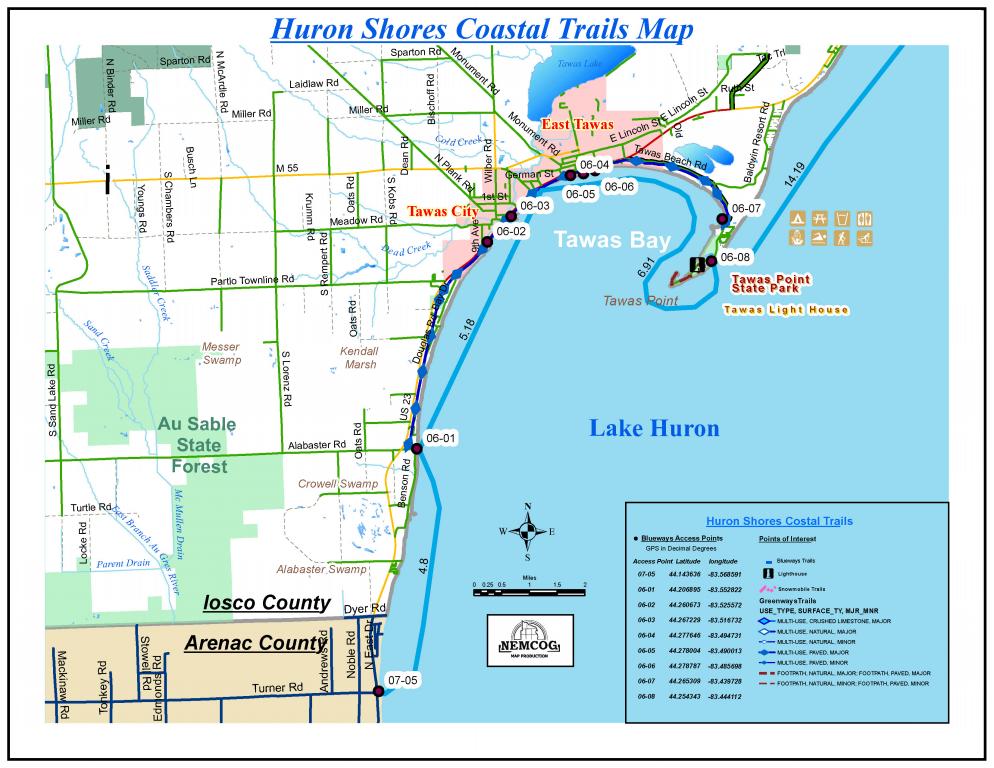 From Huron Shores Coastal Trails
Route: SINGING BRIDGE WHITNEY DRAIN to ALABASTER ROAD BEACH
Distance: 5 Miles
Shoreline Land Use: Primarily residential
Points of Interest: Offshore abandoned loading structure associated with gypsum mining and loading materials onto ships
Waypoints: No rest stops
Hazards & Cautions: Open-water paddle to offshore structure
Comments: None
Route: ALABASTER ROAD BEACH to EAST TAWAS DNR BOAT LAUNCH
Distance: 6 Miles
Shoreline Land Use: Urban with numerous waterfront parks
Points of Interest: There are numerous access points along the Tawas and East Tawas waterfronts. Public sites include day-use parks and campgrounds that offer picnic areas, beaches, marinas, docks, and boat launches.
Waypoints: Access Site numbers - 06-02, 06-03, 06-04, 06-05
Hazards & Cautions: Recreational boat traffic
Comments: With numerous access sites, it's possible to choose short or long paddles
Route: EAST TAWAS DNR BOAT LAUNCH to TAWAS POINT STATE PARK
Distance: 6 Miles
Shoreline Land Use: Residential and parks
Points of Interest: Parks, coastal wetlands, Tawas Point Lighthouse
Waypoints: 06-07 (road end)
Hazards & Cautions: A sand and rock shoal extends a few hundred feet off Tawas Point. Stay out from the shoal when rounding the point.
Comments: Camping and day-use facilities available at state park
Route: AU SABLE POINT
Distance: 14 Miles
Shoreline Land Use: Residential, there are no public lands along this stretch
Points of Interest: Au Sable Point, beaches, small resorts and forested coast
Waypoints: No way points and rest stops along this stretch
Hazards & Cautions: This is a 14-mile paddle with no rest stops along the way
Comments: None
Tawas Blueway Places

Access to River, Lake or Stream

Campground