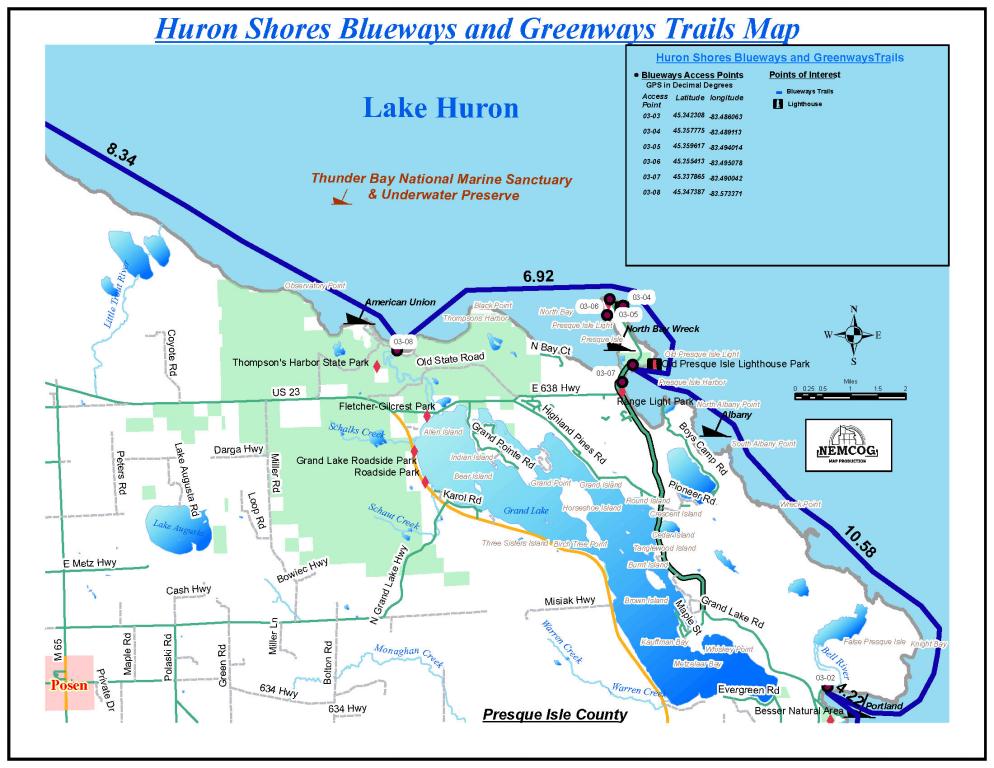 From Huron Shores Coastal Trails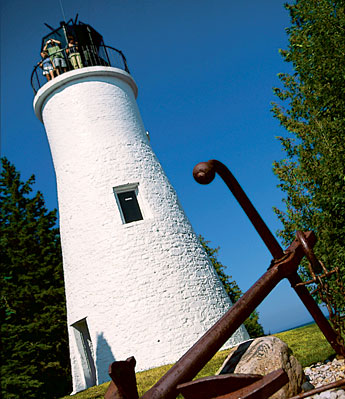 Route: FALSE PRESQUE ISLE HARBOR TO PRESQUE ISLE HARBOR
Distance: 11 Miles
Access Sites: 03-2 & 03-03
Shoreline Land Use: Stoneport quarry, low density waterfront residential, wetlands and conifer forests
Points of Interest: Stoneport operation includes docking for Great Lakes ships
Rest Stops: There are no rest stops, since all of the property is in private ownership
Hazards & Cautions: Great Lakes ships around Calcite Bay and recreational boat traffic at the Presque Isle Marina
Comments: There are numerous small bays and points. Shipwrecks can be found in shallow waters near Albany Point.
Route: PRESQUE ISLE HARBOR TO THOMPSON'S HARBOR SP (GRAND LAKE OUTLET)
Distance: 8 Miles
Access Sites: 03-03 & 03-08
Shoreline Land Use: Mostly public with residential development on Presque Isle and North Bay
Points of Interest: Old Presque Isle Lighthouse and New Presque Isle Lighthouse, Thompson's Harbor State Park, sand dunes, cobble beaches, coastal wetlands and conifer forests
Rest Stops: There are three rest stops on the Presque Peninsula. Access site 03-06 has vehicle access to the water's edge and provides an alternate launch or take-out site.
Hazards & Cautions: Recreational boat traffic in Presque Isle Harbor. North Bay is shallow.
Comments: Opportunities for viewing Great Lakes freighters as they round the peninsula
Route: THOMPSON'S HARBOR STATE PARK TO ROGERS CITY
Distance: 13.5 Miles
Access Sites: 03-08 & 03-11
Shoreline Land Use: Undeveloped, public within State Park. However, most of the shoreline is privately owned. The land use is industrial around Clacite Harbor.
Points of Interest: Observatory Point, coastal wetlands, limestone quarry operation and Great Lakes freighters
Rest Stops: There are no rest stops between Thompson's Harbor and Rogers City
Hazards & Cautions: Great Lakes freighters out of Calcite Harbor and recreational boat traffic out of Rogers City Marina. During peak salmon and trout fishing tournaments, boat traffic can be heavy.
Comments: This is a remote paddle along miles of undeveloped coastline. With no official rest stops, the route is very challenging.
Thompson's Harbor - Presque Isle Blueway Places

Access to River, Lake or Stream