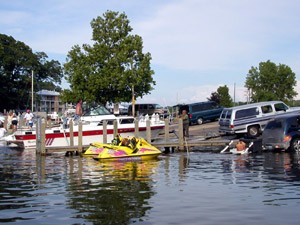 This a city owned marina. There is a free non-motorized watercraft launch with parking available outside the gated parking lot on Dunkley Avenue. If you park inside the gate it is $7.00 and there is an improved boat ramp. Walk in the gated area to restrooms. There is a vending machine and fish cleaning station. This site is part of the Bangor to South Haven Heritage Water Trail http://vbco.org/water_trail.asp






Parking Lot parking is available.
There is a parking fee of $7.00 at this location.
Public restrooms are available (Flush Toilet).



Developed boat access.
Length of access is less than 50 yards.
To access the free non-motorized carry in launching area, follow Dyckman Avenue to the park entrance along the river, look for the large willow tree on the riverbank. There is no charge for parking in the lot outside the pay gate.
The $7 pay gate is for use of the boat launch ramps.
The sign for this site is along the road (visible from road).
Dunkley Avenue
South Haven, MI 49090
GPS: 42° 24.53280, -86° 16.31400