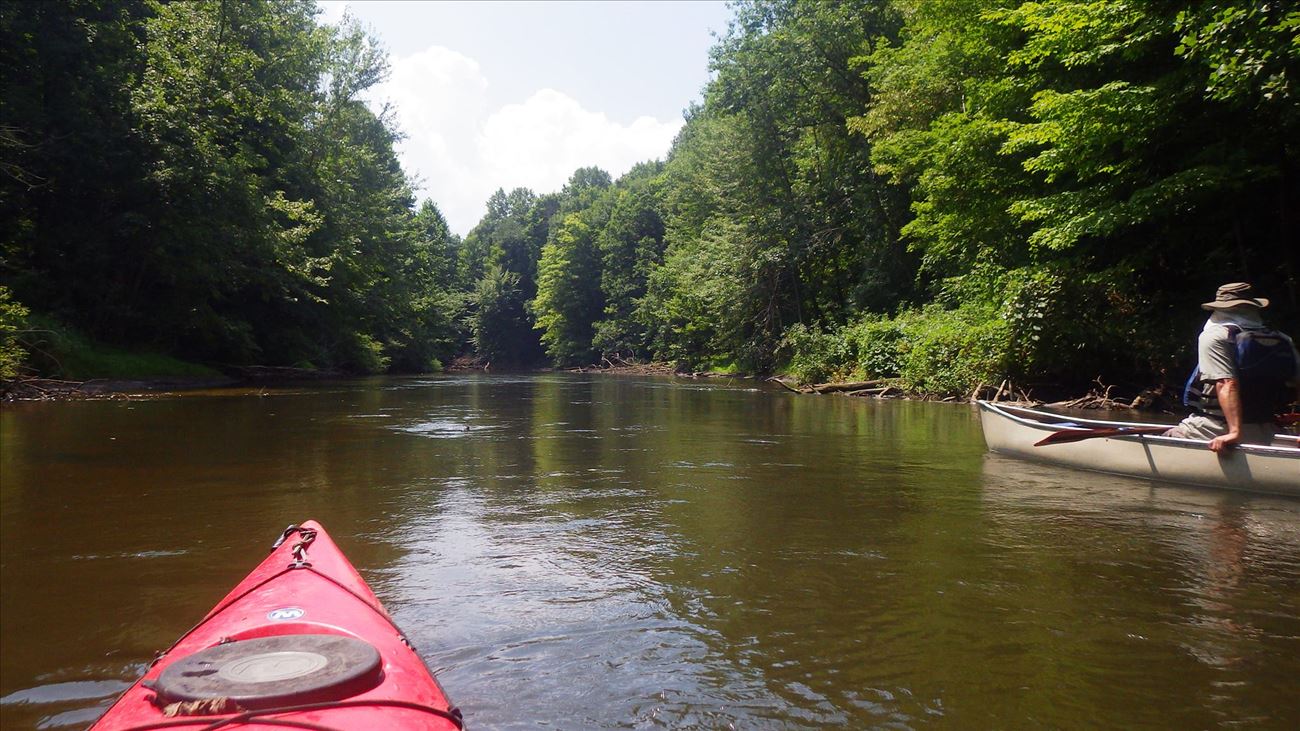 The 68 mile long Paw Paw River Water begins in the Village of Paw Paw in Van Buren County.
Have you been out paddling on the Paw Paw River this year? If so, please take our survey to let us know about your trip. It's only 5 quick questions!
There are two impoundments (Briggs Pond and Maple Lake) in the village above the dam which can be paddled. The river portion of the water trail begins immediately below the Maple Lake Dam. The Paw Paw River then winds its way 66 miles through a large, wildlife rich floodplain forest corridor through Van Buren and Berrien Counties. Scroll down to the map for trailhead and access locations. Along the way, the river runs through or skirts the edge of the communities of Lawrence, Hartford, Watervliet, Coloma, and Riverside. Ultimately, the Paw Paw River joins the St. Joseph River in Benton Harbor, approximately one half mile from Lake Michigan.
July 2020 Update: The following segments have had a contractor go through and clear a pathway. Of course, there could be a storm that knocks down trees or low Summer water levels that can easily change the status of that segment. On all other sections be prepared for snags/obstructions and portages. Cleared as of July 31, 2020 - Maple Lake Dam to CR 665; CR 665 to 40th Street; 48th Ave to Lawrence River Park; Lawrence River Park to 54th Street; 54th Street to 59 1/2 Street, Hartford/CR 687 to 67 1/2 Street; 67 1/2 Street to County Line Road; County Line Road to Paw Paw River Campground; Paw Paw River Campground to PPR County Park/Watervliet; PPR County Park/Watervliet to Coloma Public Works (behind Wesco); Coloma Public Works to Bundy Road; Bundy Road to Riverside Kayak Park; Riverside Kayak Park to Benton Harbor. And hopefully, there will be some additional segments completed soon. Thanks to the contractors out there on the water getting it done: DC Trees, JR Services, and Henderson Bros.Tree Service. Also please take time to thank the municipalities from Paw Paw to Benton Harbor who pay for this work to be done.
ATTENTION: Expect to encounter fallen trees and other obstructions. Individual water trail segment information will be updated as maintenance occurs on some, but not all trail segments throughout the year. You can follow the pathway clearing progress on Facebook. Please understand that we do our best to keep this information updated, but the river is always changing and logs may fall and/or move downstream creating new obstacles. Also please be sure to check the weather forecast and up-to-date river flow conditions on the USGS web page.
Click Here for an Important note about SAFETY, LIABILITY AND PADDLING ETIQUETTE. Also check out the weather and safety information web page on this site for more information about responsible paddling.
Most important, help us keep the Paw Paw River a beautiful, wild and thriving floodplain forest eco-system. Pack out ALL your trash and consider taking along a trash bag and picking up any trash you encounter along the river. Thanks and enjoy the river!